Insul-Tek® 250 FRP
Preinsulated piping systems for above and below ground use for service temperatures up to 250° F.
Typical Uses:
Low Temp. Hot Water Chilled Water Fuel Oil Chemical Process Condensate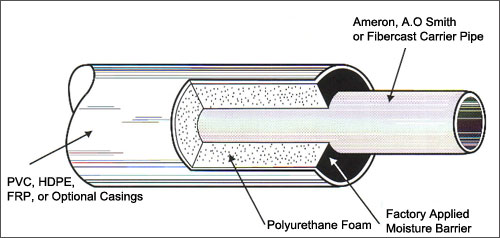 Insul-Tek® 250 FRP System is intended for use on systems with service temperatures up to 250° F and maximum pressures up to 150 psig. It is suitable for use above and below ground. INSUL-TEK' 250 FRP utilizes the most energy efficient insulation available today, isocyanate polyurethane foam.
The standard protective casings utilized in the system are PVC, HDPE, and FRP. However, optional casings are available including steel and aluminum.

Insul-Tek® 250 FRP is available in nominal 20' and 30' lengths with integrally sealed ends. The FRP carrier pipe offers the distinct advantages of being non-corrosive in nature. It will not rot, rust, or corrode and is impervious to electrolysis. It is also lightweight, often weighing os little as 1/6 the weight of steel. FRP pipe has the ability to accommodate for expansion and contraction, thus allowing for the elimination of costly expansion loops and expansion fittings.